Stamp of Approval Love is in the Air Release Day!
18:00
The day is finally here that the Catherine Pooler Love is in the Air Stamp of Approval is available to the general
public. These collections sell out very quickly so be sure to grab one right away to avoid disappointment!
This is one of the cards that is included in the PDF project guide! It's really quick and easy to create!
Simply trim a piece of white cardstock to 4 1/4 x 11 inches, score at 5 1/2 and fold in half.
On a card panel that measures 4 x 5 1/4 inches, die cut the sunburst die in the center towards the top.
Place the card panel on the base and trace the area with a pencil so you know where the Sunburst die will show through. Press the Sauna ink pad to the paper (over the traced area) until you get the desired saturation. If you are worried about the ink bleeding through, you can cut a small panel to place behind the Sunburst die.
Adhere the card panel to the card base.
Die cut the cloud from the Love is in the Air dies (add-on) and the Love die from white cardstock. Additionally cut the Love die from Midnight cardstock.
Layer the white "love" over the black "love" slightly off centre and adhere them together so that a little bit of the black cardstock shows through. Adhere the die cuts.
Finally, embellish with Nuvo drops as desired.
(If you are inspired by my videos or blogs, please shop through the links. I make a small commission at no cost to you that helps support my blog, channel and future giveaways.
If you are inspired by my videos, please shop through the links. I make a small commission at no cost to you that helps support my blog, channel and future giveaways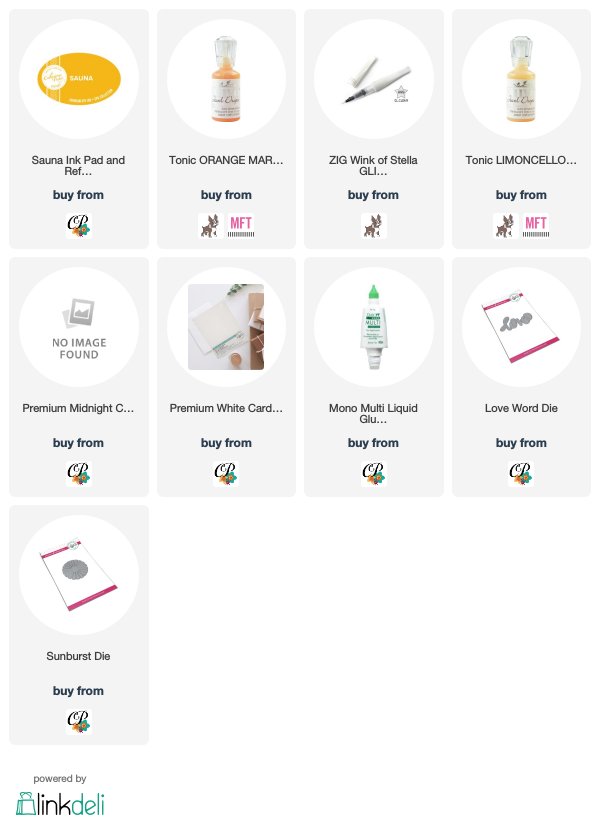 Save
Save